Stop wasting time searching through old emails for information you swore you received from partners and vendors for Open Enrollment. Instead, use resources from BRI, starting with a visit to the new Resource Center.
Beyond the Resource Center, we offer multiple tools and assets to help clients and brokers, including our blog page and the new BRI Insights platform. Explore how resources from BRI can help you craft a smoother Open Enrollment experience.
Resources from BRI
Blogs
With two new blogs a week, our content is always on the (pre-tax) money.
We share tips with employees on how to reduce common frustrations like multiple receipt requests and how they can get the most out of their accounts. Brokers and clients can also find a wide array of information, addressing industry updates from Washington, best practices for plan administration and design, and more.
We've also created infographics and walk through guides to make it easier to understand certain processes. One of our most popular employee items is our claims best practice infographic.
Visit the blog page today and browse the categories to find pertinent information. Or, just type a word into the search bar to get a list of related articles and pages!
BRI Insights
The BRI Insights platform was launched with one goal in mind: help you get more benefits to more employees.
The tool allows employees to size up their benefits by comparing options in a single platform.
By educating employees on the benefits of contributing to pre-tax accounts and offering a personalized assessment with actionable insights, you can sit back and watch the participation rates soar.
To see an overview of how the tool works and why it's worked for so many companies, check out our video or schedule a demo.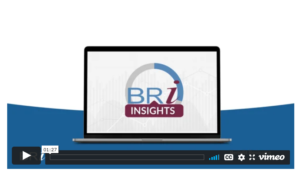 Resource Center
Finally, one of the newest resources from BRI is the Resource Center. This online library hosts content for all of your year-round benefits needs. Find flyers, brochures, eBooks, videos and more on a variety of topics, not just Open Enrollment.
Here's a 3-step guide on how to get the most out of the Resource Center:
Select your audience. You can choose to view materials for employers or employees.
Narrow down your search. Select the product, content type and use case.
Use the search bar. Have a specific document you want to find? Curious about what is available on a certain topic? As you type into the search bar, the most relevant content will appear.
Find what you need today– visit the Resource Center.
Focused on Open Enrollment?
If you're focused on Open Enrollment, after you visit the Resource Center, you will want to download our Remote Work guide. This eBook provides a 5-stage communication strategy you can use to amplify your communication to remote employees to improve benefits understanding and increase employee participation.
---
For more guidance on simplifying the complexity of benefits for maximum savings and peace of mind, subscribe to our newsletter.