Anyone who's been exposed to the elements for an extended period knows there's the question of survival: food, water, or shelter? Which one do you choose? Ultimately, the answer is "yes."
We can live without some of those longer than others depending on the conditions, but they all end up being important. Executives are faced with a similar choice when it comes to workforce planning, and mental health.
BRI conducted a national survey and engaged in small group discussions with HR professionals across the country in August 2021. The results were analyzed to learn about the pain points and challenges of the past year to create the best path forward.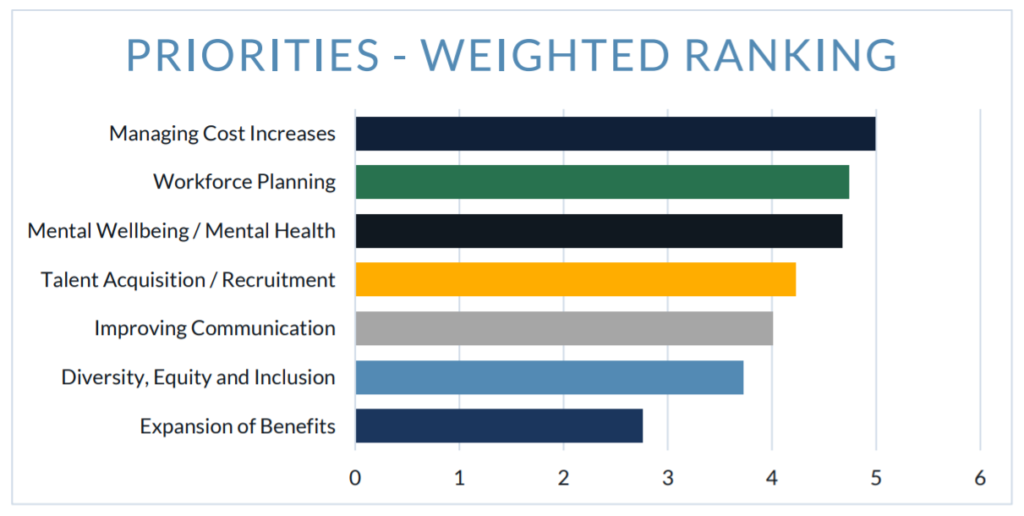 We explore some of the factors in the survey results above that you should consider in order to advance your business.
Workforce Planning
Workforce planning is the blanket term addressing returning to the office, a permanent remote workforce, and hybrid workforce management. There is no one-size-fits-all or even a perfect equation. However, there are questions employers can ask to move the needle forward.
Some of these might include: How do you bring people back? Do you bring people back? Is the approach hoteling? Company size, geographic location, and whether or not work needs to be done on-site can also be considered.
If your employees are staying remote more and commuting less, there are ways to support your changing workforce.
Learn what will work best by polling employees and looking at questions to ask about your hybrid workforce solution.
Keeping costs low
Keeping costs low was a priority before the pandemic. How to successfully accomplish it has shifted greatly in the last year. It doesn't help that the costs of services are going up everywhere.
In addition to obvious expenditures, there are often intangibles that can come hidden with a higher price tag. To get around this, one option for employers to explore is vendor consolidation. This not only provides the chance to reduce costs, but can provide streamlined solutions to manage workforce planning and mental health.
Mental health
When it comes to mental health, the UK appointed a loneliness minister in 2018 and the CDC lists it as an epidemic on their website. The pandemic has only exacerbated the situation.
Additionally, diversity, equity, and inclusion (DEI) often go hand-in-hand with mental health. Workers with diverse backgrounds and those identifying as LGBT are more prone to experience a lack of a strong community or social network.
The takeaway for employers is that the typical Employee Assistance Program won't cut it for today's workforce. This is a chance for HR to reinvent the system and add new support for employees.
Additionally, certain items aren't as out of reach as they might seem and might not hit the budget as much as supposed. Two examples include Health Joy and Mental Health First Aid Certification.
Health Joy – healthjoy.com
This platform simplifies the benefits experience and supports healthcare decisions while providing an easier way to discover benefits. It has also been cited as a system that aids in addressing employee communication challenges.
Mental Health First Aid Certification – mentalhealthfirstaid.org
Mental Health First Aid is a course that teaches people how to identify, understand and respond to signs of mental illnesses and substance use disorders. The training gives individuals the skills they need to reach out and provide initial help or support to someone who may be developing a mental health or substance use problem or experiencing a crisis.
Moving forward: Turning wounds into wisdom
We shared more insights on how to manage cost increases, workforce planning, and mental health during our fall webinar. Click here to watch.