So you have paid out-of-pocket for an eligible item or service and now you need to go through the steps to be reimbursed from your account. When it comes to accessing the funds in your pre-tax benefit plan, the primary concern for most participants is "how difficult is this going to be?" Whether you are submitting a claim through the BRIMOBILE app or by using the BRIWEB secure participant portal, the process is very simple and easy to follow.
Let's take a look at the steps required to pay yourself back from your account through claim reimbursement.
Note: Online claims can generally be submitted for a Medical/Limited FSA, Dependent Care FSA, HRA, and Parking benefits. See your plan documentation for any restrictions or conditions that may apply.
---
Select your preferred method
---
Logging into BRIWEB
To begin the process of submitting a claim online, you must first log into the secure participant portal at www.BenefitResource.com. From the homepage, take a look in the upper right-hand corner. Click on the yellow button that says "Login." Select "Employees" you will be taken to the login page for your account.
You may need to Register an Account!
For enhanced security and streamlined account login ongoing, you will be required to use a custom Login ID for the BRIWEB Employee site.
If you are new to BRIWEB or currently using a Member ID as your Login ID, you will be required to complete the Account Registration process on your first visit to the new site.
The following are required for registration:
COMPANY CODE: Provided by your employer
PERSONAL INFORMATION: First name, last name, date of birth, home zip code
If the system cannot identify you by the information above, you will also need to provide:
MEMBER ID/REGISTRATION ID: Typically a 9-digit ID selected by your employer (i.e. SSN, payroll ID, or even a combination)
For additional assistance, see the BRIWEB FAQs Page. 
---
Starting a Claim
Now that you are logged into BRIWEB, you can submit a claim for any of the accounts that you are enrolled in by clicking "Submit Claims/Receipts" from the left-hand Navigation Menu.
From the Submit Claims/Receipts page, click the "Start Claim" button that corresponds with the plan type you wish to submit a claim against.
---
The Claims Process
Personal Information
Prior to entering your claim information, review your contact information to ensure that it is up-to-date and edit, if necessary. If you do not have a direct deposit account set up, the reimbursement check will be mailed to the address that is listed here.
Claim Information
The Claim Item(s) section allows you to enter multiple claims at the same time. Each request contains a few important pieces of information: the name of the service provider, what type of service and the services rendered, the date of service, and the amount being claimed. Once you have entered the required information in the Claim Item(s) section, click "Save".
Note: If you have a balance remaining from the prior plan year, be sure to select the option to have your claim reimbursed with these funds. If this option is not selected, reimbursements will be processed from your current plan year balance.
---
Upload Receipts
To upload receipts for each of the items or services that you are claiming, click "Choose File" from the Attachment(s) section. Once the file is selected from your device, click "Save".
---
Completion Page
That's it! You have completed the steps to successfully submit your claim! 
Please allow up to 5 business days for activity to be processed. To receive your funds faster, sign-up for direct deposit through the Profile section of BRIWEB.
BRIMOBILE Claims
Claims with your mobile phone are easy! If you haven't downloaded the BRIMOBILE app you can find it on the Apple App Store or on Google Play.
---
Logging In On Mobile
Logging in requires two pieces of information:
Your employer has set the default "Login ID" and can provide it to you. If you have never logged on to BRIWEB, contact your employer for your "Login ID" and initial password.
Once you have successfully logged in, you can set a login PIN for future use.
---
Starting a Claim
Click the button "Submit a Claim"
---
Your Account
On the claims page, you will see the accounts available to make a claim against. In this example, we will be making a claim against our Medical FSA. Tap the button labeled "Start Claim."
---
The Claim
To begin your claim you will need a few pieces of information: the name of the service provider, the type of service, any items purchased or services rendered, the dates of service, the claim amount, and you will need to choose which plan year to reimburse from. Scroll down to upload a receipt and complete the claim.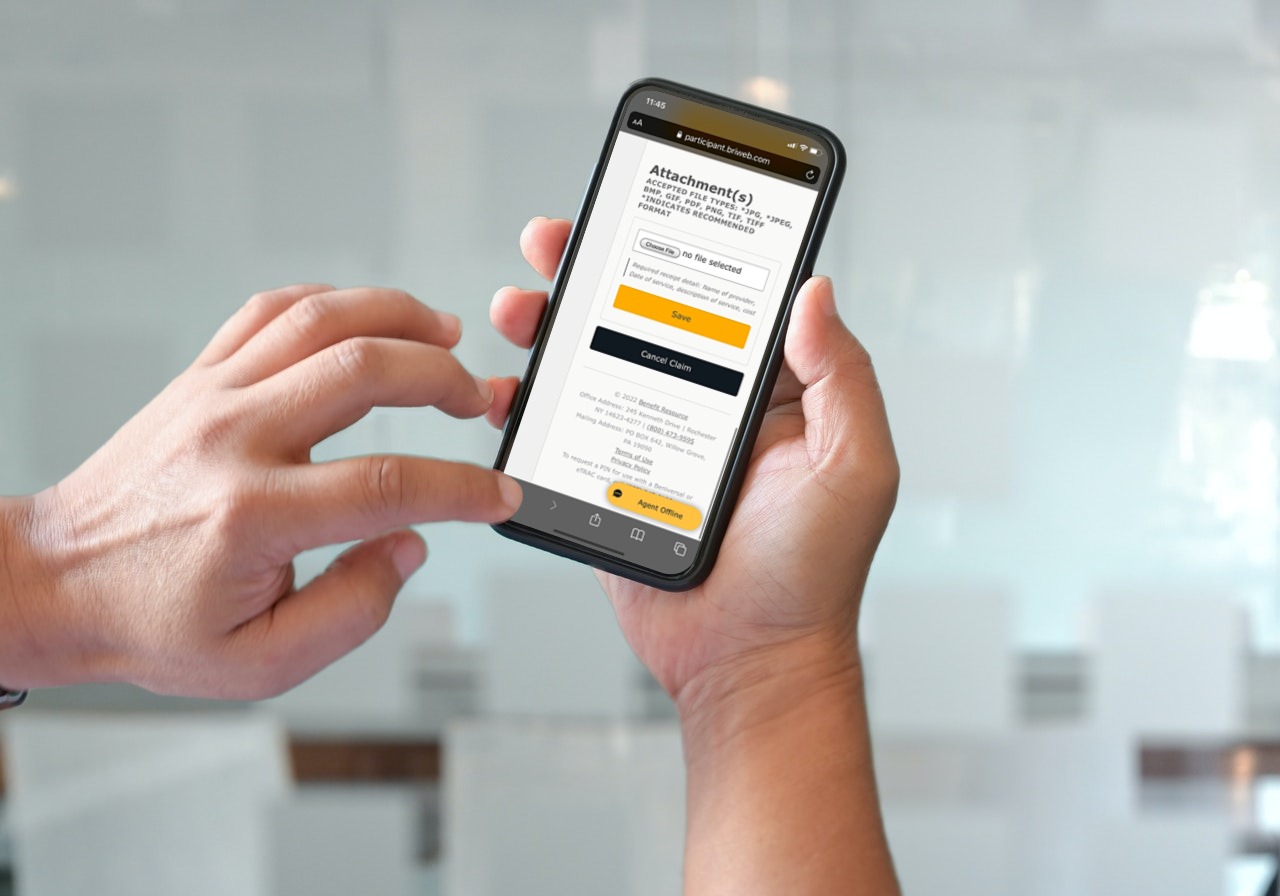 You have the option of taking a photo directly from the app, or uploading a photo of the receipt from your phone. Once you have uploaded a photo of the receipt for the claim, tap the "Submit" button.
---
All done
Congratulations! You have submitted a claim for your pre-tax dollars and will receive your reimbursement as soon as it's processed! To receive your funds faster, sign-up for direct deposit through www.BRIWEB.com.