The BRIMOBILE app is designed to provide on-the-go access for the most common items used with tax-free benefit accounts, which include:
Account Overview: Displays all active account balances you have with BRI. Please note that actual available funds may vary if you have any recent or pending transactions.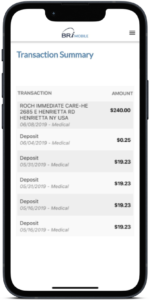 Transaction Summary: Allows you to view card transactions that have occurred during the last 30 days.
Claims: Allows you to submit recent claims To submit a Commuter Benefit or FSA/HRA claim along with the required receipts and documentation, you will need to enter the required information regarding the claim (e.g. service provider, service, date(s) of service, amount). You are then presented with the option to "Take a Photo" of receipts or "Upload a Receipt". Upon submission, you will have the option to "Submit Another Claim Like This" or "Submit Another Claim". "Submit Another Claim Like This" will pre-populate values in the claim based on the claim just submitted. "Submit Another Claim" provides a blank claim form.
Receipt Requests: Allows you to view Beniversal Card transactions requiring followup and submit itemized receipts and documentation for those transactions. You can "Take a Photo" of a receipt from the app or select "Upload a Receipt" to upload an existing photo stored on your device. Additionally, you can submit a receipt for a Beniversal Card transaction which has not yet been flagged for follow up and provide a receipt proactively. Select "Submit receipt for another transaction". In addition to providing the receipt, you will be asked to enter the type of transaction, date and amount of the transaction. These features can be accessed by going to the home screen. A home button is located at the bottom of the app. If you require additional detail or alternative options, you may log into your account using the participant login.
Taking a Picture of a Receipt
When you select the "Take a Photo" button, the app will open the camera on your device. You will need to take a photo of the receipt or document. You will be presented with the option to save the image, retake or cancel. If you are satisfied with the image, save the image and you will automatically return to the app to complete your claim or follow up receipt request.
Uploading a Receipt
The "Submit a Claim" and "Submit a Receipt" options allow you to upload a receipt that has been saved to your device. The app will accept any standard image file (e.g. – jpg, png, gif) or PDF format. You may experience delays with large files or poor network signals on your device.
Selecting Dates
You will be asked to enter dates of service. If you receive an "Invalid Date Error", make sure that:
The selected dates are after your effective date in the plan.
You are still eligible to submit an expense for the selected dates.
Notifications
Through the Notifications option, you can opt-in to receive real-time text or email alerts regarding your account balance and transaction activity. Simply update your contact info and select the types of alerts you would like to receive. Note: Standard text rates may apply from your wireless provider.
Contact us at (800) 473-9595, Monday through Friday, 8am to 8pm (Eastern Time) if you have trouble logging in or email info@BenefitResource.com to report an issue with the app.