The worldwide situation with the coronavirus has been stressful, to say the least.
We've heard it said that laughter is the best medicine. That's why we compiled these memes to describe how HR and benefits professionals might be feeling right now.
Up first:
How many is too many? #askingforafriend
Chances are you're working on updates to your Open Enrollment strategy, since it'll most likely be remote this year.
Oh, and don't forget to catch up on the new mandatory extended claim period and run-out extension for FSAs. You'll also need to decide if you want to allow mid-year election changes to FSAs. Of course all of this will need to be communicated to your employees.
Feeling overwhelmed?
We can help.
Our team of specialists are here to help you figure out what changes work best for your company and how to appropriately communicate the changes to your employees. We even have pre-made templates we can share with you. Just ask your specialist and they'll set you up.
The next image in our COVID-19 memes collection is an original creation from the BRI team.
Can I get a side of sarcasm with that?
Chances are that regardless of how many times you've heard the terms "COBRA" or "continuation coverage" in the last several months, the topic is still not perfectly clear.
For those who seek a never-ending detailed-oriented project with multiple moving pieces, administering COBRA might seem like a dream come true. But in case that isn't you, here's how we imagine you feel:
The good news? You don't have to manage it on your own. Find out why partnering with a COBRA administrator might be one of the best decisions you make this year.
Moving right along…
Borrowed from our friends over at imgur, this remake of the traditional "Distracted Boyfriend" meme will have you thinking "relatable as… all get out." (We know – you thought we were going to say something else).
Keep calm and use digital wallets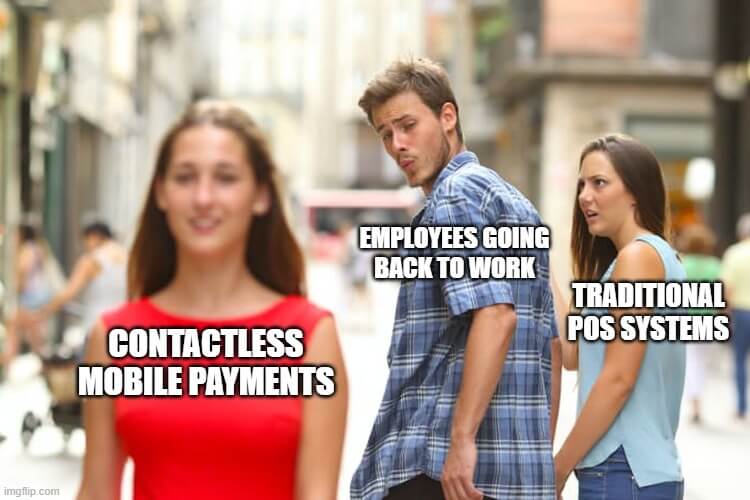 If you're trying to navigate how to safely ease employees back into an office environment, it might add some stress. Thankfully, BRI just launched new contactless payments through digital wallets. Your employees can now avoid touching shared surfaces and make payments directly from their phone.
Check out more about how we're working with Samsung Pay®, Apple Pay® and Google Pay®.
Need more laughter? Check out this blog or this one.
When it comes to coronavirus… Hang in there. This too shall pass.